Read our Testimonials!
Best Around  
When you come to Texas in July and put on an outdoor show…with fire…and a parking lot full of people happily stand out there and cheer…I call that a huge event success! The stunt show was awesome & they kept the crowd engaged! I was impressed with the set up as well, not your typical 10×10 tent and trailer! We can't wait to have them back at the largest Harley-Davidson dealership in the state of Texas this summer!
Sarah Oakley
Texas Harley-Davidson, Bedford, TX
The American Legend!
I can honestly say that I have been privileged to see the evolution of the BKST family from the start. I am somewhat biased when it comes to giving a great recommendation because I consider myself a part of that family. I've watched Tony and his lovely wife Dana build an entertainment empire from the ground up. I've watched this family go through deep heartache and massive success while never backing down from a challenge. Tony is a true businessman in every sense of the word. He strives to entertain and put smiles on faces both little and big. His wife Dana, has a heart of gold, plain and simple. They say that every great man has an even greater woman behind him and this power couple proves that notion. I'm proud to call Tony Jones my friend and I absolutely love watching him and his BKST crew, do what they do! You will not be disappointed, there simply is no way NOT to have a successful event with these guys in town. Give the BKST crew a call and let them show you what the American Thrill-Show is all about!
BURNING TIRES and LIGHTING FIRES!!
Travis Lemmons
MoGangsta Promotions LLC
Tearing it up in Waco
Huge thanks to King Tony and his crew! Our customers and team had a blast and we can't wait to have them out again. The show was first class all the way and everyone that was here had ball! – Bret Posey GM
Bret Posey
October 22, 2016 Waco, Texas
Ambassador Of Fun
We loved having King Tony & his crew out at HD Waco! Talk about a good show! They had the crowd fired up the entire time! All around good group of guys & some awesome talent! They really leave their mark! People are still talking about Busted Knuckles! Can't wait for them to come back out! -Megan Hurley, Ambassador of Fun
Megan Hurley
October 22, 2016 Adam Smiths Harley of Waco
Rock Stars of Stunts
Busted Knuckles Stunt Tour performed at Harley-Davidson of Dothan's Fall Open House and we couldn't have been more happy to have them here! King Tony and his crew Eric and Drew gave us two great performances! (Third one was rained out, can't help that.) They were a fantastic group to work with and the stunts they are able to pull off with those Harley-Davidson's were unbelievable. It was a joy to have them here and we look forward to seeing more from this group, and we hope to have them back here in the future. If you're looking for a great stunt show with an amazing crew to work with this is definitely the group to work with!
Denise Cain
October 18, 2016 Harley-Davidson Dothan
Grand Opening at Alligator Alley HD
Us at Alligator Alley Harley-Davidson just had our Grand Opening Event this past weekend. Busted Knuckles Stunt Show was the best part of the whole event! The crowd loved their show and it brought a TON of people to the dealership. Working with Tony and his crew was super easy, and he was always in contact with me. My staff and customers loved them so much that we are booking them at all of our other dealerships across the nation. If you want a kickass stunt show, these are the guys to work with! Thanks again Busted Knuckles!
Meghan Plys
December 20, 2016 Sunrise Florida
Solid Crew Great Show!
Had the pleasure to not only see these guys' show multiple times but also was able to hang out with them and get to know more about their passion and history.
Tony and crew have a cool vibe, excellent talent and put on a solid show! Follow, support and make sure you go check these guys out at an event near you!
Miguel Samaniego
April 23, 2017 Phoenix, AZ
I had the pleasure of
I had the pleasure of working with Tony, Eric and Drew twice this year at our Days of Thunder and Biketoberfest events. We are always looking for unique experiences to provide for our customers, and when I came across Busted Knuckles – I knew our customers would love them. As a Marketing Director, I was really impressed by Tony who provided all the materials I needed to make a decision to hire, and market the event. He answered all of my questions quickly and thoroughly. BKST always arrived promptly and adapted quickly to our crazy event layouts. Their first show in June 2016, knocked it out of the park. I had so many comments/messages/shared photos on our social media – it was a no brainer to rehire them. When I announced they would be returning – our customers were ecstatic! This past event in October 2016, we experienced a crazy out-of-the-blue hurricane, and BKST rearranged their plans so they could make our rescheduled show. The second time around was so rad! And I love that they stick around and "hang out" with customers after the show – it really speaks volumes of their passion and professionalism. Tony, Eric and Drew have made a lasting impression on both myself and the dealership; they are so funny and kind – it's like being around your brothers that you've known your whole life! Needless to say, Busted Knuckles Stunt Team has quick to become a staple at our events, and I always look forward to their performances. Keep on Burnin' Tires & Lightin' Fires ya'll!!!
Elizabeth Brown
October 16, 2016 Thunder Tower Harley-Davidson
Best stunt riders in America !!!
I met king tony and crew a couple years ago at Thunder in the Rockies bike rally, these guys are the definition of what motorcycle stunt riding is!! They put on a hell of a show, fun for all ages. I have never seen a stunt crew work the crowd and their motorcycles the way these guys did!! On a scale of 1-10 I give them a ?! I already can't wait to see them again. And there just all around damn good people! Keep up the great work fellas
Adam Lucier
October 17, 2016 Fort Collins, Co.
King Tony is a LEGEND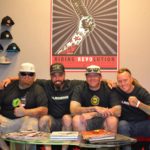 A few years back I heard about King Tony's Busted Knuckle Stunt Tour from one of our Legend reps that met Tony at Landers HD. Tony participated in our Performane Tour demo rides and mentioned he needed some quality suspension. Tony and I talked over the phone about opportunities in supporting each other's brands. I was hesitant because I hadn't met Tony in person…after 10 minutes I was all in. Tony has a vision, he is absolutely driven to make his vision reality, and a plan to make it happen. One of the most important aspects for Legend and me personally is the way Tony and his entire team are down to earth and handle themselves professionally with the crowds, and anyone they touch. I couldn't be more excited how Legend has been represented by Tony and his crew over the years and many more to come. If your a brand considering supporting this thrill show don't hesitate for a second! They represent professionally, promote you like they own the brand, and are beyond loyal to the companies that support them back. I haven't even mentioned the quality of riding and skills that are second to none..it's a true thrill show and exciting to watch not just the same old shit. Go see for yourself, get your brands on this team, and hire them to come perform for you dealership and events. You won't be disappointed in any way.. When Tony says somethings gonna happen… it happens. Thanks again guys for all the miles in the Ram, all the hard work and sweat setting up, riding your asses off and giving the crowds what they came to see. Keep up the push your changing the game ! We appreciate all you do and were honored to be part of the family …
Jesse Jurrens
October 20, 2016 Sturgis SD USA
Busted Knuckles Rocks!

King Tony, Eric Rocks And The Team Always KickAss When They Bring The Busted Knuckle Stunt Show To American Eagle Harley-Davidson With The Busted Knuckle Stunt Show! Down To Earth And Seem Like Family When There Here. Our Customers Always Walk Away Excited And Amazed After Seeing Stunts Being Preformed On Harley-Davidson Motorcycles. They Truely Are "GREAT AMERICAN DAREDEVILS" Can't Wait To Have Them Back!
Bryan Tynes
October 16, 2016 American Eagle Harley-Davidson
Busted Knuckles performed at The…

Busted Knuckles performed at The Silver City Blues & Bikes Festival 2016. The guys rocked it! Best stunt team ever. Silver City is still talking about it. They are all great guys and wonderful to work with. Very professional and approachable. Even after working there butts off they still took the time to meet and greet every fan. I would hire them again in a hot minute! If you get the chance go see them!
Ginny Wolf
October 16, 2016 Mimbres Region Arts Council
#1 Harley-Davidson Stunt Show!
Mancuso Harley-Davidson had the pleasure of working with the Busted Knuckles crew in August. The guys are helpful, knowledgeable, & extremely talented. Our customers and staff were truly impressed with their skilled stunt show. Busted Knuckles brings a spectacular setup with an awesome selection of merchandise for all ages! We appreciate the experience & knowledge of the Harley-Davidson brand that Tony and his crew brought. They were able to speak to our customers and get them excited about Harley-Davidson motorcycles. Tony, Drew, and Eric took the time to meet all of our Mancuso family and share stories about all of their adventures. We look forward to bringing them back to Houston and welcome them to our Mancuso Family!
JoJo Gehrke
November 10, 2016 Houston, TX
Hands Down, The Best!!
Over the yearrs we've had the pleasure of hanging with Tony, doing business with Tony, hosting some of the Busted Knuckles stunt shows, etc…With out a doubt, one of the best people, we've ever done buisness with! All around good guy, that knows his stuff!! The Busted Knuckles Stunt tour is hands down the best stunt show out there!!!
Drew Allen
October 17, 2016 Little Rock, Arkansas